Temperature control keeps you cozy during the cold winters and cool on those sweltering summer days.
A good thermostat will maintain a comfortable environment in your home and help you save money on your electricity bill.
You need to select a thermostat that works with your current heating or cooling system which provides the right features for your needs.
Selecting the right thermostat can seem like a technically daunting task, so today, we'll help ease you through the process.
Comparing Manual and Programmable Thermostats
Overview of manual and programmable thermostats:
Swipe left to see more
Manual Thermostats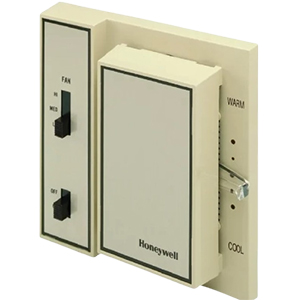 Manual thermostats, also known as mechanical or non-programmable, require manual operations to switch on and off, and control the temperature.
There are two types of manual thermostats:
Analog - A first-generation device that comes with a dial that you rotate to control your home's temperature.
Digital - A modernized thermostat with digital temperature controls. It also has a digital screen (sometimes with a backlight) that makes it easier to see the temperature on the display.
Pros of Manual Thermostats
Anyone can operate a manual thermostat with relative ease.
They are the cheapest type of thermostat available.
Cons of Manual Thermostats
They are less efficient because unless you manually switch the thermostat off, the Heating, Ventilation, and Air Conditioning (HVAC) system fan will keep running, which will cost you more over time.
Some old designs are not visually appealing.
Analog models contain mercury which poses several health risks.
They speed up the deterioration of your HVAC system parts because the components work continuously. The HVAC will keep running for as long as the thermostat is on.
Programmable Thermostats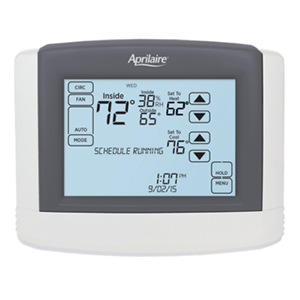 Programmable thermostats are a more advanced version that automatically regulate your home's temperature according to your input settings. If it's a smart version, it uses artificial machine learning data to determine your temperature needs.
Advantages of Programmable Thermostats
You don't need to constantly change your settings — you simply set it and forget it.
Helps you save on the cost of energy. As a result of the lower energy use, you can save about 10% each year on your energy bill.
Newer versions are Internet-compatible and can pair with smart technology appliances and smartphones, so you can adjust your settings over Wi-Fi even when you are on vacation.
They are energy efficient because you can set the thermostat to automatically adjust the amount of energy you use.
For instance, you can set it to consume less energy when you are out of the house or sleeping at night. The system will readjust when you need it to.
Disadvantages of Programmable Thermostats
The initial purchase cost is higher than the manual option.
Programming can be complex and confusing for some. If not used correctly, you won't see any energy savings.
Which Is the Better Thermostat Option: Manual or Programmable
Both have pros and cons, and there's no right or wrong choice. However, there are some important considerations to make, including:
The Voltage of Your HVAC System
Your home's HVAC system is either a millivolt (very low voltage), low voltage, or line (high voltage) system. Before you select a particular thermostat, refer to your system's manual.
Most thermostats are compatible with 24V, so a low voltage thermostat should be the right pick unless you have a floor heater or an electric baseboard system.
Note: Floor heaters and electric baseboard HVAC systems use high voltage systems; you will need a high-capacity electronic thermostat.
Older HVAC models typically have very high voltages and need thermostats compatible with over 110V.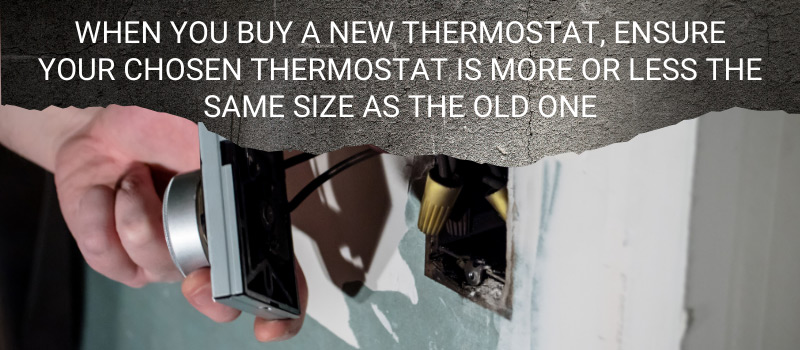 Wall Positioning
When you buy a new thermostat, ensure your chosen thermostat is more or less the same size as the old one, so it fits into the same space. This is so you don't have to worry about rewiring.
In addition, if you choose a completely different shape, you will have to remove the wall anchors that hold the thermostat, and patch the holes so your room doesn't become an eyesore.
Expert tip: As a rule of thumb, whether you choose a manual or programmable thermostat, ensure that you put your thermostat:
In a central location, not too high up on the wall so it can correctly read your room's temperature
On a wall free from obstructions to allow the censors to work correctly
Far from vents and direct sunlight so that external temperature won't affect it
Heating and Cooling Stages of Your HVAC System
HVAC systems are categorized in stages determined by the way the compressor works.
One-stage systems run at one speed
Two-stage systems have two speed options; either high or low
Variable speed systems allow the system's compressor to run at different speeds depending on the heating or cooling demands for your home
The type of thermostat you need depends on the stages of your HVAC. For instance, you need a one-stage thermostat for a one-stage HVAC system. You can't use a one-stage thermostat on a variable system.
To check which one your system is, you can:
Google the make and model number of your HVAC. The description usually includes information about stages.
For heaters and furnaces, check the decode document, which lists types of furnaces.
Check the wire connections from your system to the thermostat. Variable speed systems have lots of wires coming to the thermostat, while one and two-stage systems will have a maximum of two wires.
C-wire Connection
Programmable and smart thermostats typically require a constant energy source. So, they need to be connected to the C-wire, otherwise, you have to replace batteries constantly.
The C-wire connection provides a path for the electricity to flow uninterrupted by on and off switches to ensure that the thermostat is always connected.
You will need to check if your system has a C-wire connection. To do this, remove the current thermometer from the wall to expose the wires and see if one is labeled C. You can also check on the HVAC control board to see if you can find one with the C label.
If you see extra wires or the labels are unclear, it's best to consult a licensed electrician or HVAC technician.  
If you don't have a C-wire, you may need to get a manual thermostat, or install the wire before you get the programmable one.
Get Your Thermostat From a Reliable Supplier
Swipe left to see more
Once you have ascertained the right choice of thermostat for your HVAC system, turn to Industrial Stores.
We are a reputable supplier of quality tried and tested brands, such as Honeywell, Bard, Robertshaw, Ecobee, Siemens, Johnson Controls, and many others.
Browse our room thermostat catalog and pick out one that matches your home's HVAC system parameters.
If you're still unsure which one to get, contact our customer service team, where you can talk to an actual human to get the help you need. No, we won't reroute your call to a call center halfway across the globe, so don't hesitate to get in touch.